We love Music, we love Spanish, we love children
---
We love teaching Music and Spanish to children. Alabanza Music was founded in 2003 offering contemporary piano-keyboard classes to children and adults in our local community in San Fernando and by public demand, we expanded to a second location: Curepe (now St. Augustine).
With a passion for teaching young children, recognizing the desire by parents to get an early start in music, we began implementing programmes utilizing music education methods for children.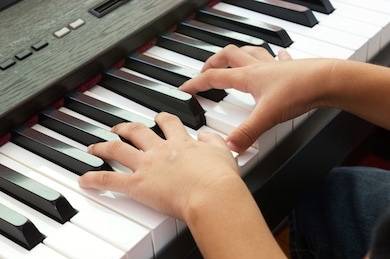 ---
In 2016 we began utilising the child-centered Musikgarten Curriculum, with its remarkable approach to music literacy involving families and culture-rich repertoire, which is in keeping with our philosophy. We are proud to be the first qualified and certified provider of Early Childhood Music & Movement Education from birth in Trinidad & Tobago.
We currently offer classes for the entire Family: babies, toddlers and preschoolers with their parents, pre-instrumental and piano-keyboard classes for primary school children, teens and adults. Classes facilitated by our certified & licensed Early Childhood Music and Movement Specialist, Ms. Lisa.
---
​​Education at Alabanza Music, as the Spanish name suggests (Alabanza means "praise"), is not only about music. In 2007 we designed Viva la Música - the first ever musical Spanish programme culminating in a Musical production that would help young children engage in practical applications of the language in a way that is fun and engaging and have always been an avid supporter of Parang music culture.
With so many tremendous research-proven brain benefits to music as well as learning a foreign language, with Musikgarten's unparalleled, comprehensive and sequential plan of musical development for children from birth, we have decided to integrate Spanish into all of our Family Music programmes and offer musical Spanish classes for older children.
All of our Music and Spanish programmes from birth include local content to make learning culturally relevant and are tailor-made to fit the developmental needs of children and to foster a lifelong love of music.
Lisa Darmanie de Quiñones
​Lisa Darmanie is a multi-linguist and the first Early Childhood Music and Movement Specialist in Trinidad & Tobago, certified by the ECMMA, USA. She wears two hats as both Music and Spanish educator, with Honours Degrees in Spanish and Musical Arts from U.W.I. Her two decades of experience in education is across age levels, having taught at Preschool, Primary and Secondary.
Mrs. Darmanie de Quiñones is the founder of Alabanza Music: Education, offering developmental Music and Spanish classes from birth to adult as well as Alabanza Music: Gifts, an exclusive novelty music gifts store.
Miss Lisa, as she is affectionately called in class, put Trinidad & Tobago on the map as the first country in the Caribbean to offer the internationally acclaimed Musikgarten programme, with certified training from Musikgarten's early childhood music and movement experts, as well as training in Dalcroze Eurythmics for children at the Lucy Moses School, USA. She's made the programme bilingual for families to acquire Spanish language together through music.
Ascribing wholeheartedly to the principle of sound before sight in her pedagogical approach comes naturally being a formally trained keyboardist-gospel musician who can also play by ear and a multi-linguist.
She has been engaged over the years in band and choral arranging and conducting at San Fernando Open Bible Church with the adults and often serves as a judge for several Parang and Calypso competitions at national level. She's now gravitated towards working with the youngest children and absolutely enjoys the interactions.
Her God-given passion is to draw families closer together through broad-based music activities while bringing folk music back into the homes.
Lisa Darmanie firmly believes that nurturing and enriching musical and multilingual experiences from young are absolutely essential in helping children grow to become beautiful, resilient human beings.
---
---
To be the leader in early childhood music education in the Caribbean and to enrich lives across generations with a deeper understanding of the immense transformative power of music.
To provide training in music and second language development from early childhood to adulthood in order to empower individuals with the necessary skills to become confident and versatile in self-expression.