What to expect in Musikgarten Class?
---
At Alabanza Music, we pride ourselves on providing a calm, nurturing environment, free from mobile distractions in an otherwise hectic world. Songs are folk and classical from our country and all around the world.
Most of our initial music making is a cappella singing (voices without audio music in the background) so that parents/caretakers are encouraged to be a musical companion to the young child.
Arrive at least 5 minutes prior to the start of classes. Adults should dress comfortably and be ready to participate as fully as possible with their child. We remove shoes and socks prior to entering the classroom. Your belongings can be kept to the back of the classroom in the designated area.
---
APPRECIATE: When it's time to "be my echo" or take a turn on an instrument, we will always respond "Thank you / Gracias" no matter what your child does or doesn't do, in order to show appreciation. Avoid terms like "good job" or "very good" as we're not evaluating children's performance but encouraging the process of learning. Not sure what to do then? One of the best ways to appreciate is with hugs and kisses of affirmation. 🥰
PARTICIPATE: In Family Music classes, parents participate with children throughout the session. In Music Maker classes, parents typically observe sessions and participate with children towards the end.
Adults are expected to participate as much as possible. We are up and down from the floor quite a bit so do let us know if you may have any physical challenges with movements beforehand and we'll support you. The songs and movements are not difficult. You are encouraged to sing and perform movements as modelled by the teacher.

Children are not forced to sing and/or do any movements since they are allowed to explore the classroom and get comfortable. Sometimes your child may just watch in wonder. Do not be concerned if your child has trouble sitting or participating fully for every activity. This is normal. The more classes the child takes, the more actively he/she will begin to participate.
The Neuroscience of Music Education through play

---
---
In order to ensure a smooth running of our class, here are some tips to work alongside your facilitator to create a nurturing environment for the enjoyment of music.

Please keep food, drinks, toys, and other distractions in the car or hidden from view. Bags can be left on shelves provided and not in the floor space except for your instrument pouch.

Please silence cell phones during class and keep them in the designated area with your bags. If expecting an emergency call, do keep your phones on vibrate on your person and you can step out of the class to take the call.

If your child becomes upset or disruptive, it is a good idea to get a drink or take a short walk (but do try to return when he/she is ready).

We recommend that your child/baby be fed/ breastfed before class is in session in order to have them energised for the activities. If you feel the need to feed your baby while class is in progress, you're welcome to carry baby into the adjacent room and you can return when feeding is completed.
Try to make bathroom stops and diaper checks before class begins or before leaving home.

Please avoid harsh public rebuke, critical, negative stares or comments directed towards your child or any other children within the group. If you see your child doing something inappropriate, call their attention to it immediately with a quick gesture or action. Don't shout out their name!

Do not be disappointed if your child has trouble sitting or participating fully for every activity. This is not an appropriate expectation for infants and toddlers. If the child is present in the environment, he/she is learning. Don't pressure them!

Arrive on time and avoid sleepy children. If they fall as sleep on the way, be sure to spend sufficient time outside getting them prepared to participate before entering the class space. It is counter-productive for the child and entire group to try to coerce them to jump out of slumber into doing activities.

Please keep conversation to a minimum during class. Usually it's just the facilitator doing the talking as a verbal coach more so for the adults. The adults should be able to follow directions and allow the children to be guided accordingly so that the children can focus on what the music is telling them to do.

Both parents/guardians can attend. Relatives and siblings who are waiting should be out of view and quiet during class but space permitting they are certainly welcome to join us in the session! Any persons with injuries or disabilities can be provided with a chair in class if needed.
---
---
Meet your Musikgarten Facilitator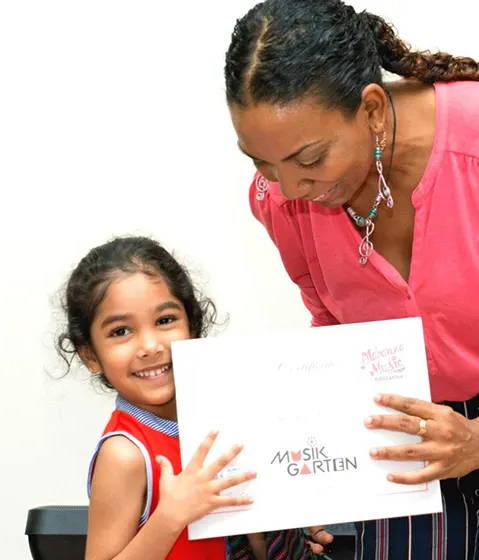 Lisa Darmanie de Quiñones
Founder of Alabanza Music
Lisa Darmanie de Quiñones is a multilinguist and music educator and is the the first certified Early Childhood Music and Movement Specialist in Trinidad & Tobago. Her keen ear for music and foreign languages began developing in the early years, having been mesmerized by her father's ability to play his favourite songs on the piano by ear and hearing him speak Spanish. With an inseparable attachment to Music and Spanish since childhood, she pursued them both and holds Honours Degrees in Spanish and Musical Arts from U.W.I and accredited certification from the Early Childhood Music and Movement Association ECMMA, USA. Alongside specialized training in early childhood music including Gordon Music Learning, Dalcroze Eurhythmics, her two decades of experience in education span across age levels, having taught at Preschool, Primary and Secondary, adults too but always naturally gravitating towards working with the youngest children and she enjoys the interactions with families.
Miss Lisa put Trinidad & Tobago on the map as the first country in the Caribbean to offer the internationally acclaimed Musikgarten programme, adapting it to include even more local and regional folk music repertoire while adding a bilingual component for families to acquire Spanish language together through music. Her bilingual experiences continue at home with her Venezuelan-born husband Mr. J Quiñones who is also quite musical.
In addition to being a formally trained pianist, she has been engaged over the years as an accomplished and versatile musician and keyboard accompanist, delighting in choral arranging, directing and conducting the adult band at San Fernando Open Bible Church, training school choruses & steelbands, being involved in musical-theatre productions with the UWI Festival Arts Chorale and serving as a judge for Parang, Calypso & Steelpan competitions at national level. She occasionally expresses her artistic creativity in pencil portraiture but is not going to miss out on playing a good game of tennis, cricket and is a strong advocate of healthy living.
Ms Lisa's God-given passion is to draw families closer together through broad-based music activities while bringing folk music back into the homes by creating nurturing and enriching musical and multilingual experiences from young, helping children grow to become beautiful, resilient human beings.
Welcome to Musikgarten - The Neuroscience of Music through play

Why is Music and Movement vital for Children?


while stimulating neural pathways associated with such higher forms of intelligence as abstract thinking, empathy, and mathematics.
Music makes good listeners
Music is perfectly designed for training children's listening skills. Good listening skills and school achievement go hand in hand.

Music is a creative experience
which involves expression of feelings. Children often do not have the words to express themselves and need positive ways to release their emotions.

and young children are aural learners. Since ears are fully mature before birth, infants begin learning from the sounds of their environment before birth.

and children are oriented toward learning language.

Music is a social activity
which involves family and community participation. Children love to sing and dance at home, school, and at church.
and children delight in and require movement for their development and growth.

Music's melodic and rhythmic patterns provide exercise for the brain and help develop memory. Could you imagine a child trying to learn the ABC's without the ABC song?
and is an avenue by which beloved songs, rhymes, and dances can be passed down from one generation to another.
---
---